You've probably stumbled upon this article because you have a last minute interview tomorrow. I bet you are feeling jittery and the butterflies are multiplying each minute. Don't worry. It's normal. Performance anxiety can happen to anyone, even those who are really prepared.
It is important to remember that interviews are not as scary as they might seem. Think of it as just having a conversation with someone in a similar job field. They will ask you questions about yourself, and you should be asking some about them, too.
While you have already done the research on the company and its employees and overall prepared for the interview, here are some last minute things to remember for the morning of.
Eat a strong breakfast – by having the nutrients you need to fuel your body, you can improve your brain function and really be ready to nail the interview!
Dress the part – what you wear helps an interviewer with first impressions. It is important to "dress the part" so that you look like you are a good professional and can belong at the company.
Review the research – while you shouldn't be waiting until the morning of to do your full research on a company, it would be smart to review all of the notes you have taken on the company to prepare. This includes having any paperwork you need readily accessible to grab and go.
Arrive early – by allowing for extra time, you lessen the risk of being late because of a broken GPS, traffic, late ride, etc. When you get there early, you can relax and prepare for the upcoming interview.
Don't rush – when you rush, it is easy to stress yourself out. Calm down! Allow for extra time and get ready with plenty of time so that you don't rush.
Make a good first impression – a good handshake can go a long way. Don't be shy! Smile and have good eye contact. It is important that you make a good first impression on your interviewer.
Be friendly – this goes hand-in-hand with making a good first impression. Kindness can go a long way and is majorly appreciated. Being kind shows that you can be a good person!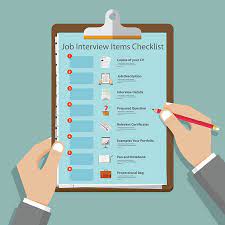 If you follow these tips, you are likely to have a good first impression. This is important because you want to look professional and show that you are ready for the role you are interviewing for.
Being nervous is normal, but an interview does not need to be a scary event. By following these few tips and tricks the morning of, it can really help relax you before you walk into your interview!