Introduction
Maybe we should have known what was coming for us, that our world would be turned upside down. 2020 began with disaster after disaster after all, and we as Americans felt like we had lived a whole decade of disaster after only three months. Beginning with the threat of a third World War on January 3rd, a messy presidential impeachment trial, the sudden and tragic deaths of Kobe and Gigi Bryant that left the entire world in shock, it felt like January had dragged on for years. February was the first time the entire population caught a glimpse at the damage a terrifying new virus could do, and March went on to bring the world to its knees with the coronavirus acting as a full-fledged pandemic, causing mass shutdowns, travel bans, global economic suffering and depression. In late March it felt like the world as we knew it was coming to an end as family and friends were unable to gather together, businesses were failing, and the United States had become more politically divided than ever. A year and 2 months have passed, and now the question on everyone's mind remains: when will COVID-19 go away?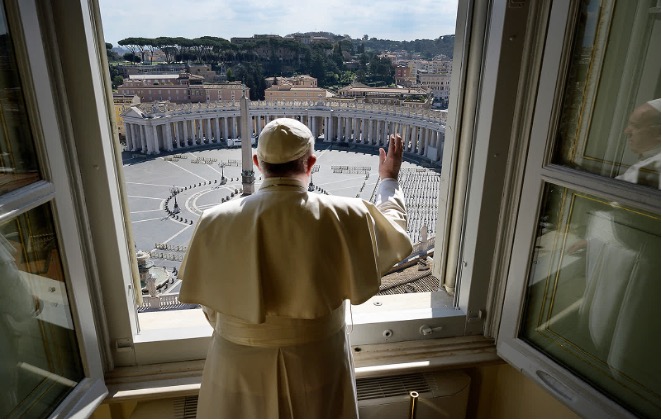 ---
Will COVID-19 Become Like the Seasonal Flu?
In Short, COVID-19 is an extremely transmissible and infectious disease caused by the SARS-COV-2 virus. In most cases, contracting the coronavirus will result in "mild to moderate respiratory illness," (WHO). However, there is a greater risk of serious illness among certain groups of high-risk people like those in the elderly, diabetic, and immunocompromised communities, and it is beginning to look like COVID-19 will become a routinely mutating disease like influenza. Influenza mutates rapidly, meaning that new strains come out every year that the population has little immunity to. This is why influenza vaccinations need to be updated each year. COVID-19 is already mutating a little slower than influenza, but it will still be mutating regularly, so vaccinations will need to be updated accordingly (Troy Sutton 0:00-0:45 seconds).
From the beginning of the pandemic, coronavirus has been compared to the seasonal flu again and again, whether to downplay its severity, create excuses to open communities back up as normal, or to encourage vaccination. The two diseases are similar in that they both manifest in respiratory symptoms that can be lethal. They can also be compared for educational purposes by looking back at newspapers from 1918 discussing the severe and tragic influenza pandemic. We, in 2021, are wondering whether or not the coronavirus will ever go away, and the newspapers back in 1918 were expressing public panic wondering the same about the flu. The title of a newspaper called The Oglala Light from October 1st, 1919 was "Will the Flu Return?" (The Oglala Light, 01 Oct. 1919, 10). The first sentence of the article reads, "PROBABLY, but by no means certain there will be a recurrence of the influenza epidemic this year… it will not be as severe as the pandemic of the previous winter," (10). In support of this newspaper's headline, The Indianapolis Star published an article called "Epidemic Starts Afresh," on November 14, of 1918 in regard to the recurrence of the pandemic: "The influenza-pneumonia epidemic to Indiana is showing a tendency to recur in a number of places in the state, it was announced yesterday by William F King, assistant secretary of the state board of health," (The Indianapolis Star, 14 Nov. 1918, 9). However, there were other newspapers that published headlines that were deceiving in nature like the one from The Minneapolis Journal titled, "Epidemic Nearly Eradicated Here," from November 22, 1918 as well as one from The Dayton Daily News titled, "Recurrence of Epidemic Not Expected Here," from November 21, 1918. Like today, there was a lot of mistrust and confusion surrounding the medical professional circuit and the government involvement in the eradication of disease in the United States in 1918- which meant propaganda for and against the pandemic returning was put out all over the country. As time goes on, it is beginning to look like COVID-19 is following suit, in its long-awaited transition towards becoming an endemic disease like influenza-one that effects, "…a community continuously or seasonally with transmission maintained at a steady rate…" (GAVI Vaccine Alliance).
---
What is Being Done to Stop the Spread of COVID-19
The biggest thing that is being done to end the global pandemic is the mass production and roll-out of vaccinations to the public. Unfortunately, the coronavirus won't be eradicated by a simple immunization, and here's why:
The goal with the COVID-19 vaccination is to get to a point of herd immunity, where according to Dr. Anthony Fauci, 75-80% of the world's population has been vaccinated against the virus. Reaching herd immunity means that there will be enough people immune to COVID-19 at the same time that it will prevent the widespread transmission of the disease (Charumilind, Craven, Lamb, Sabow, Wilson). Right now, there is little to no evidence that the vaccination can stop the contraction of the disease, but there is strong evidence that the vaccination will stop the severe illness and limit hospitalization due to complications from the coronavirus.
"Let's say we get 75 percent, 80 percent of the population vaccinated. If we do that, if we do it efficiently enough over the second quarter of 2021, by that time we get to the end of the summer, i.e., the third quarter, we may actually have enough herd immunity protecting our society that as we get to the end of 2021, we can approach very much some degree of normality that is close to where we were before,"- Anthony Fauci, Director of NIAID (Powell).
---
Why Aim for Herd Immunity When we can Aim for Eradication?
This might be a shocking concept, but only one disease has ever been eradicated from the human race, and that was smallpox. What makes eradication so difficult? According to the Carter Center of Disease Eradication, smallpox was able to be eradicated because the disease was highly visible and usually could not spread very far before its noticed, only humans can transmit and catch smallpox, people who developed smallpox developed lifelong immunity against future infection, and finally, vaccination was highly effective (History of Vaccines). COVID-19, however, does not fit the smallpox pattern for eradication, and more relates to influenza- which is impossible to eradicate. COVID-19 can be transmitted without the infected person even knowing that they had COVID, because some infected persons turn out to be completely asymptomatic-meaning, the disease is not always visible. Also, like the flu, the coronavirus is able to be contracted and transmitted by animals as well as humans. Finally, contracting COVID-19 does not mean that you will be immune for the rest of your life. In most cases, you can only be immune within 3-6 months of your infection, which is also how long the vaccination is effective in protecting you for (History of Vaccines). Unfortunately, there is another major roadblock to getting a disease under control, and that is seen most remarkably with polio. Polio has the potential to be eradicated, but in Pakistan, Nigeria, and Afghanistan, there are many misconceptions regarding the polio vaccination. "More than 40,000 parents refuse to dispense the vaccination to their children… They believe that the polio vaccine has banned ingredients including monkey fecal matter and pig fats which are considered haram in Islam. They have this misconception that polio vaccination causes infertility. This seriously jeopardizes Pakistan's polio vaccination efforts," (Haidari, Idrees, Khattak, Saad, Shah, Rizwan 424). This is related to the amount of the population, which thwarts the efforts of the government to reach herd immunity. So, it seems that right now, as with all other endemic diseases like malaria, polio, and influenza, eradication is not on the horizon for COVID-19.
"We need to be wary of the dangers of magical thinking, of seeing vaccines as a silver bullet. Vaccines will not offer an overnight solution. We have to temper our optimism with a dose of reality and brace ourselves for many more months of infection prevention and distancing measures as the vaccines are rolled out,"- George Daley, Dean of Harvard Medical School (Powell).
---
What is the Difference Between Being COVID Free and Eradication?
Countries like New Zealand and Australia are COVID free, but that does not mean that they have eradicated their regions of the disease. There could be unreported cases or even new cases that occur in the future, but right now due to their fast and accurate pandemic protocol, these countries are able to control the outbreak in their area and continue life as normal pre-COVID. They have not eradicated the disease by creating permanent immunity in their population, they have just controlled and slowed the spread. New Zealand, for example, is COVID free because they immediately put a plan into action to contain the spread of COVID-19 beginning in February. Their early action against the virus is what allows them to be one of the only countries that is COVID free in the world. "The [New Zealand] government implemented a stringent countrywide lockdown on March 26- which totaled in a 7 week stay at home order," (New England Journal of Medicine). All travelers who enter New Zealand are kept in a government-managed quarantine or isolation for fourteen days upon arrival in order to maintain the country's status in the post-elimination stage of their COVID-19 state-wide protocol (New England Journal of Medicine). Since they have had so much success with their protocol, New Zealand is- for the most part- functioning at pre-COVID levels.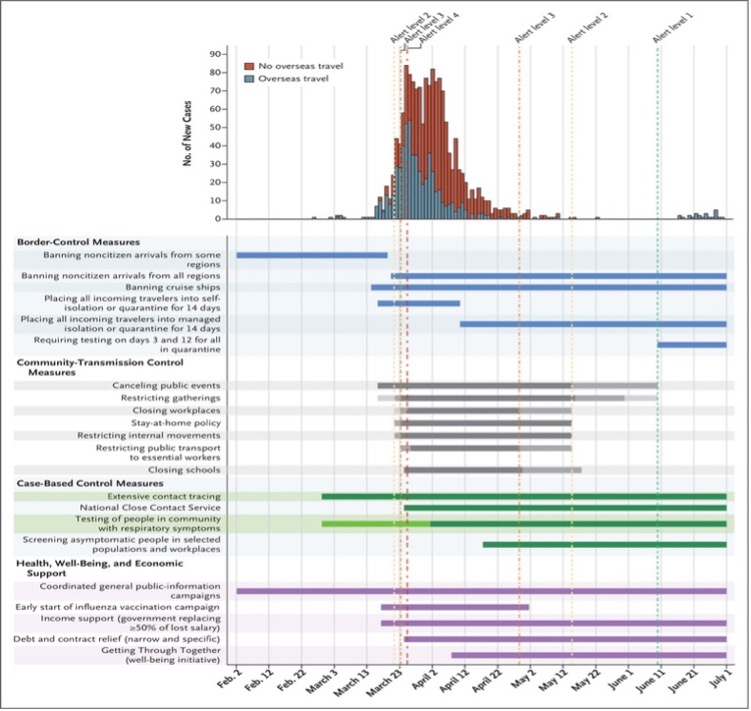 ---
Conclusion
It looks like COVID-19 is here to stay. While the people who have been living through this pandemic for over a year now were waiting and waiting for the light at the end of the tunnel where there would be no more masks, no more COVID, and more of everything we have missed out on because of the strict regulations to prevent infection are probably hanging their heads in defeat, we should take the wins as they come. COVID-19 may never fully disappear from our lives, but there is hope. We now have vaccinations that are free and show great results in protecting ourselves and others from severe illness, which will allow the world to begin to open up and operate at a certain rate of normalcy while we eagerly await herd immunity. What do we as a world have to look forward to in the future? Yearly COVID booster shots along with our regular flu shots, a higher respect for the capabilities of our medical professionals and of our technology in continuing society where physical connection failed us, and somewhere in the near future, a world without masks and social distancing.
---
Works Cited
"2020 Has Changed Everything. And It's Only Half Over." CNN, Cable News Network, www.cnn.com/interactive/2020/07/world/2020-year-in-review-july/.
Charumilind, Sarun, et al. "When Will the COVID-19 Pandemic End?" McKinsey & Company, McKinsey & Company, 29 Mar. 2021, www.mckinsey.com/industries/healthcare-systems-and-services/our-insights/when-will-the-covid-19-pandemic-end.
"Disease Eradication." History of Vaccines, ftp.historyofvaccines.org/content/articles/disease-eradication.
Epidemic Nearly Eradicated Here, Michigan Publishing, University Library, University of Michigan, 22 Nov. 1918, quod.lib.umich.edu/cgi/t/text/idx/f/flu/0630flu.0006.360/1/–epidemic-nearly-eradicated-here?rgn=subject%3Bview.
Epidemic Starts Afresh, Michigan Publishing, University Library, University of Michigan, 14 Nov. 1918, quod.lib.umich.edu/cgi/t/text/idx/f/flu/0600flu.0005.060/1/–epidemic-starts-afresh?rgn=subject%3Bview.
"Health Topics." World Health Organization, World Health Organization, www.who.int/health-topics/.
Humanities, National Endowment for the. "The Oglala Light. [Volume] ([Pine Ridge, S.D.]) 190?-19??, October 01, 1919, Image 9." News about Chronicling America RSS, None, chroniclingamerica.loc.gov/lccn/2017270500/1919-10-01/ed-1/seq-9/#date1=1777&index=0&rows=20&words=1918+influenza&searchType=basic&sequence=0&state=&date2=1963&proxtext=influenza+1918&y=0&x=0&dateFilterType=yearRange&page=1.
Is COVID-19 Here to Stay? www.gavi.org/vaccineswork/covid-19-here-stay.
Others, M. Scully and, et al. "Successful Elimination of Covid-19 Transmission in New Zealand: NEJM." New England Journal of Medicine, 16 Apr. 2021, www.nejm.org/doi/full/10.1056/NEJMc2025203.
Shah, Syed Zawar et al. ""Why we could not eradicate polio from pakistan and how can we?"." Journal of Ayub Medical College, Abbottabad : JAMC vol. 28,2 (2016): 423-425.
Powell, Alvin. "Anthony Fauci Offers a Timeline for Ending COVID-19 Pandemic." Harvard Gazette, Harvard Gazette, 2 Mar. 2021, news.harvard.edu/gazette/story/2020/12/anthony-fauci-offers-a-timeline-for-ending-covid-19-pandemic/.
Recurrence Of Epidemic Not Expected Here, Michigan Publishing, University Library, University of Michigan, 21 Nov. 1918, quod.lib.umich.edu/cgi/t/text/idx/f/flu/1060flu.0003.601/1/–recurrence-of-epidemic-not-expected-here?rgn=subject%3Bview.
"Will COVID-19 Eventually Become like the Seasonal Flu?" Penn State University, news.psu.edu/story/655777/2021/04/20/will-covid-19-eventually-become-seasonal-flu
---