Course:
HLTH 7713 Establishing a Leadership Development Plan Blog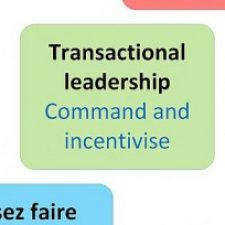 Department
Health Sciences
Course Description
Full Range Leadership model
The Full Range Leadership model includes Laissez faire leadership (here interpreted as Free agent/market behaviour), Transactional leadership (Command and incentivise), and Transformational leadership (Motivate and empower others). This diagram contrasts them on two scales: Engagement as the extent to which the leader changes attitudes and behaviours of others; and Effort or energy needed from leader
Creative Commons Zero, Public Domain Dedication
Pons, J. (2019, October 16) CC0, via Wikimedia Commons.