Selecting a theme is usually one of the first steps in creating your website. Your theme adds the appearance, style, and layout to your website.
From your main site page, highlight the title of your page in the top bar and then select Dashboard; this is highlighted in red below. After selecting dashboard, you will be directed to your site customization page captioned in the smaller image below. Under Customize Your Site, you will see change your theme completely, that you will then select.

After selecting change your theme completely you will then be able to view the different themes that can be applied to your website.
Apart from the themes that we provide access to, a wider variety is available and can be made accessible upon request; these themes can be viewed at https://wordpress.org/themes/. To request a theme, please fill out and submit a theme request form here, an example of this is displayed below. After this theme is requested, a response will be given with 2-3 business days. We cannot guarantee that we can make the theme requested available but we will try our best.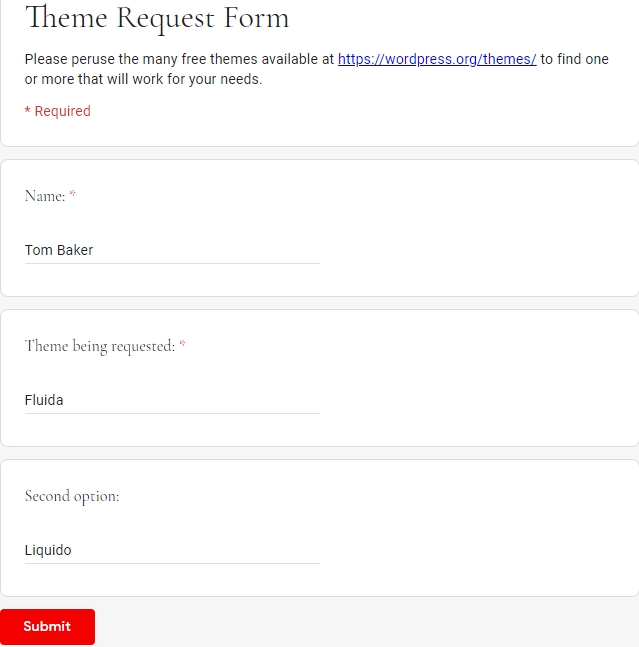 When your desired theme becomes available, you can continue with adding it to your site. The steps to do so are as follows:
Select Live Preview to view a theme before applying it to your website. Before previewing the theme, you can highlight it and select theme details to get specifics on a theme and obtain insight into what it is best used for.
Here are some examples of the different themes that can be applied to your site. (The active theme name changes for each image.) Select the theme image below to be directed to its specific page or click the collage image above to be redirected to the WordPress themes directory page.
As you can see from the theme-specific customization bar highlighted above, each theme comes with different customization options. After finding the theme that best suits your page, select

to apply it to your site.
WordPress incorporates a theme-specific customization sidebar and a general customization sidebar that can both be used to customize your website. As you learn more and continue to explore, you will better understand how each can be used interchangeably.