Her Legacy
Walters' Start Up
Walters attended Lawrence School, a public school in Brookline, Massachusetts; she left halfway through fifth grade when her father moved the family to Miami Beach in 1939.[13] She continued attending public school in Miami Beach.[14] After her father moved the family to New York City, she spent eighth grade at the private Ethical Culture Fieldstone School,[15] after which the family moved back to Miami Beach.[16] She then went back to New York City after tenth grade, where she attended Birch Wathen School, another private school.[17][18][19] In 1951, she earned a Bachelor of Arts in English from Sarah Lawrence College in Yonkers, New York.[20]
After college Walters was employed for about a year at a small advertising agency in New York City and began working at the NBC network's flagship station WNBT-TV (now WNBC), doing publicity and writing press releases. In 1953 she produced a 15-minute children's program, Ask the Camera, which was directed by Roone Arledge. She also started producing for TV host Igor Cassini (Cholly Knickerbocker), but left the network shorty after. She went to WPIX to produce the Eloise McElhone Show, which was canceled in 1954.[21] She became a writer on The Morning Show at CBS in 1955.[22]
At the Table
ABC Evening News
Walters signed a five-year, $5 million contract with ABC, receiving the nickname "Million Dollar Baby" and establishing her as the highest-paid news anchor, either male or female.[2] She and Harry Reasoner co-anchored the ABC Evening News from 1976 to 1978, making her the first U.S. female network news anchor. [29] Reasoner had a difficult relationship with Walters because he disliked having a co-anchor, even though he worked with former CBS colleague Howard K. Smith nightly on ABC for several years. Walters said that the tension between the two was because Reasoner did not want to work with a co-anchor and also because he was unhappy at ABC.[30] In 1981, five years after the start of their short-lived ABC partnership and well after Reasoner returned to CBS News, Walters and her former co-anchor had a memorable (and cordial) 20/20 interview on the occasion of Reasoner's new book release.[31]
In 1979, Walters reunited with former The Today Show host Downs as a correspondent on the ABC newsmagazine 20/20. She became Down's co-host in 1984, and remained with the program until she retired as co-host in 2004.[32] Throughout her career at ABC, Walters appeared on ABC news specials as a commentator, including presidential inaugurations and the coverage of the September 11 attacks. She also has been chosen to moderate presidential debates.
Interviews
Walters was known for "personality journalism"[35] and her "scoop" interviews.[36] In 1976, she first aired her highly-rated, occasional, primetime Barbara Walters Specials interview program. Her first guests included a joint appearance by President-elect Jimmy Carter and Rosalynn Carter, and a separate interview with singer-actress Barbra Streisand.[37] Walters had sit-down interviews with world leaders and many influential people in pop culture.
Walters was widely known for asking actress Katharine Hepburn, "If you were a tree, what kind would you be?" On the last 20/20 television episode in which she appears. Walters showed a video of Hepburn's interview, showing the actress saying, she felt like a strong tree in her old age. Walters followed up with the question, "What kind of a tree?", and Hepburn responded "an oak" because they do not get Dutch elm disease.[38] According to Walters for years Hepburn refused her requests for an interview. When Hepburn finally agreed to one she said she wanted to meet Walters first. Walters walked in all smiles and ready to please. They had several other meetings later, mostly in Hepburn's living room where she would give Walters her opinions. These included that careers and marriage did not mix, as well as her feeling that combining children with careers was out of the question. Walters said Hepburn's opinions stuck with her so much, she could repeat them almost verbatim from that point onward.[11]
On March 3, 1999, her interview with Monica Lewinsky was seen by a record 74 million viewers, the highest rating ever for a news program.[39] Walters asked Lewinsky, "What will you tell your children when you have them?" Lewinsky replied, "Mommy made a big mistake," at which point Walters brought the program to a dramatic conclusion, turning to the viewers and saying, "… that is the understatement of the year."[40] From there throughout her career Walters' continued to interview many influential people including current and former presidents, and pop icons such as Michael Jackson.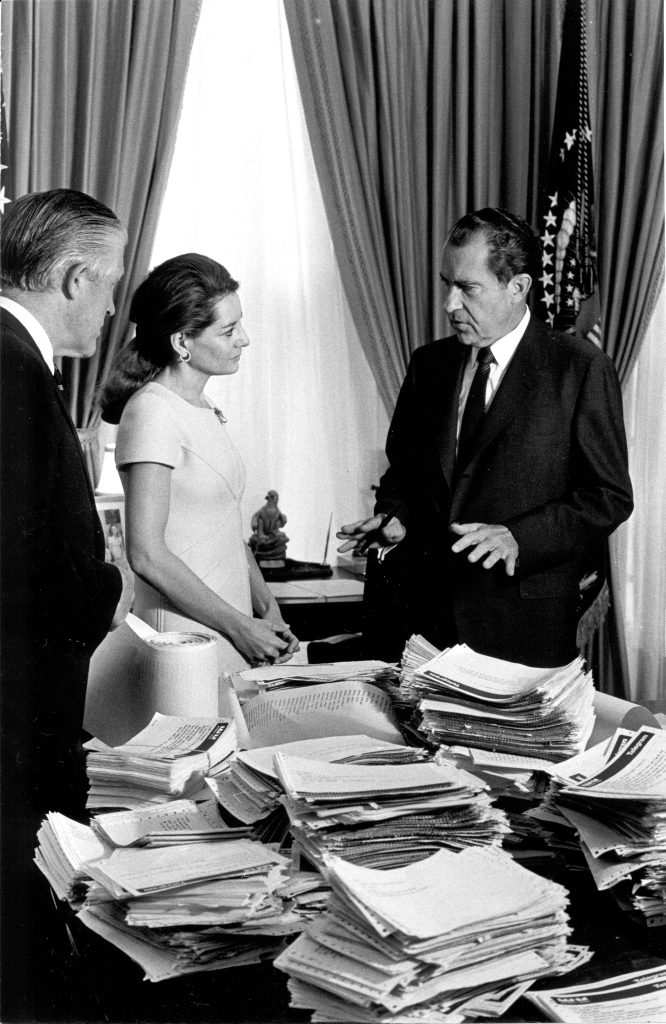 Trophies of Success
Throughout her career Walters have earned many awards. She was inducted into the Television Hall of Fame in 1989.[23] On June 15, 2007, Walters received a star on the Hollywood Walk of Fame.[41] She won Daytime and Prime Time Emmy Awards, a Women in Film Lucy Award,[42] and a GLAAD (Gay & Lesbian Alliance Against Defamation) Excellence in Media award.[43] In 2008, Walters was honored with the Disney Legends award, which is given to those who made an outstanding contribution to The Walt Disney Company, the parent company that owns the network ABC. That same year, she received the Lifetime Achievement Award from the New York Women's Agenda. September 21, 2009, Walters was honored with a Lifetime Achievement Award at the 30th Annual News and Documentary Emmy Awards at New York City's Lincoln Center.[44]
Personal Life and Relationships
Walters was married four times to three different men. Her first husband was Robert Henry Katz, a business executive and former Navy lieutenant. The marriage was reportedly annulled after eleven months,[45] in 1957.[46] Her second husband was Lee Guber, a theatrical producer and theater owner. They married on December 8, 1963, and then the couple adopted a baby girl named Jacqueline Dena Guber (born in 1968 and adopted the same year; she was named for Walters' sister) but then divorced in 1976.[47] Walters' third husband was Merv Adelson who at the time was the CEO of Lorimar Television. They married in 1981 and divorced in 1984. They remarried in 1986 and divorced for the second time in 1992.[48]
In Walters's autobiography Audition, she wrote that she had an affair in the 1970s with Edward Brooke, who was married United States Senator from Massachusetts. It is not clear whether Walters also was married at the time. Walters said they ended the affair to protect their careers from scandal.[49] Walters said she regretted not having more children.[50][51]
This blog "The Legacy of Barbra Walters: America's Million Dollar Baby" by Ashlyn Indeglia is licensed under CC BY-SA 3.0. It is an adaptation of:
"Barbra Walters" by Wikipedia contributors is licensed under CC BY-SA 3.0.
"The View (talk show)" by Wikipedia contributors is licensed under CC BY-SA 3.0.
References